This may be a tad misleading as I'm not a Star Trek Wars fan, but this photo of Storm Troopers was too good to pass up!
I was going to keep it as Star Trek but my brother almost killed me,
so alas, no funny.
I haven't done many of these book tag posts even though they've always looked like a blast; luckily, this one is right up my alley! A while ago I changed my Goodreads shelves so books are only assigned genres after I've read them, which leaves my counts at: Fantasy – 69 (Booyeah!), Young Adult – 37, Romance – 32 (BURN IT!), General Fiction – 18. The evidence speaks for itself, ladies and gentlemen. I swear those numbers should be higher but my Goodreads was very sparse for a while. …It's a work in progress.
The Rules:
Credit Drew @ TheTattooedBookGeek as the creator of the tag, either use the created tag name graphic or create your own and link back to my blog.
Answer the questions.
Tag as many people as you want.
Simple, simple, simple! Aside from having to choose a favourite author or twelve.
The Questions:
1. What's your favourite genre?
Fantasy
Of course! I probably enjoy a little bit too much doom and gloom than healthily required, but fantasy is fantasy.
Fantasy has always been my preferred method of escape. There's nothing better than losing yourself in your imagination to fly through the sky with your dragon best friend, or explore Dwarf Caves under Misty Mountains, or cry over another re-read of Harry Potter because you still haven't gotten your letter. I will always have a hidden castle tucked away among the clouds where guests are always welcome!
2. Who's your favourite author from the genre?
The dreaded "favourite" question. I should have known better…
I'm a slight disappointment in that I haven't read a lot by a single author except J.K. Rowling, so if I was to go with someone other than the queen, I'd have to say I'm most enamoured with Sarah J. Maas, Patrick Rothfuss, and Lindsay Buroker. They're all on my auto-buy list (even though I haven't read quite all of Buroker's work, and I've only read one book of Rothfuss' Kingkiller Chronicles, but never you mind your pretty little head) and I've loved everything I've read by them. If I haven't recommended these to you yet, consider this my recommendation.
3. What is it about the genre that keeps pulling you back?
The magic, the whimsy, the endless possibilities, the strength, the friendships, and the mystical romances to name a few. But mostly I'd have to say because I love that it's different. I like to leave reality behind for a while and enjoy a new world where anything could happen. Is it bad I'd rather read about a made-up world than my own? Probably. But I don't let that keep me up at night. Not when I have as many books to read as I do!
4. What's the book that started your love for your favourite genre?
Harry Potter and the Chamber of Secrets. I can remember the moment as if I was standing in my old living room in Newfoundland this very moment: curled up in the old floral blue cushioned rocking chair with a puppy tangled in the blanket beside me, the musty smell of humidity that was prevalent in every coastal house, I devoured the large book in my underdeveloped hands. Reading was enjoyable but never as vivid as it was in that moment, and my stomach fluttered with excitement because I really was at Hogwarts and not avoiding my math homework. It ended up being the first book I ever read in one sitting. I've been hooked ever since.
5. If you had to recommend at least one book from your favourite genre to a non-reader/someone looking to start reading that genre, what book would you choose and why?
It depends on who's asking. My usual go-to book is Uprooted by Naomi Novik as it has a similar feel to a fairy tale but with enough twists that make it an even better fantasy novel. I've also taken to recommending people read The Lies of Locke Lamora by Scott Lynch because the writing and schemes were awesome, and I've shamelessly been recommending the Dresden Files series despite having not read it yet simply because, "IT'S FUCKING FANTASTIC!". I have yet to hear any complaints.
6. Why do you read?
…because I can't imagine not reading. Sure I go through my slumps, but when you find that perfect book that picks you up and sweeps you off your feet – it's priceless. Not having a world to escape to where you can forget yourself and your problems, no matter how big or small, sounds lonely and colourless.
I like to think that every book we read leaves a little piece of itself within us and that's why readers grow as much as we do. We expand and devour as many different worlds and views and backgrounds as we can such that when we meet another reader, we see a small piece of ourselves in them. It's not just that we have the same eye colour or the same taste in music (though that's always awesome to find, too!), it's that our story pieces resonate just under audible level and just above an itch in your fingers – the fingers that have caressed the same words and verses that transcend our small little realities. And when their story pieces resonate at the same frequency, it's like meeting a long lost friend.
There you have it!
Probably an easy guess for anyone who knows me, but this was an awesome list of questions from Drew that were really fun to answer. They'll probably change in a few weeks, but I still have a long way on my TBR to go.
I tag:
Trisha @ Trisha Jenn Reads
Danya @ Fine Print
Beth @ Betwixt The Pages
Lorraine @ Insanity Sandwich
Jenn @ Quite A Novel Idea
And anyone else who would like to do it!
You can do it – I believe in you! It may be hard to choose just one genre but I think we all have our go-to favourite for when we need to get out of a slump… Usually a book that's been sitting on your shelf trying to get your attention for the last quadrillion months.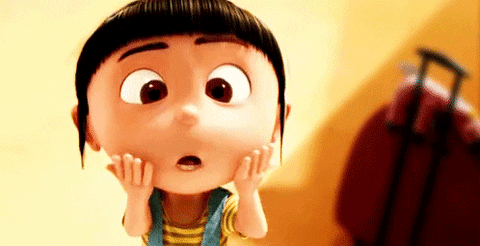 P.S. It was very difficult to find a fantasy GIF that did not contain a unicorn, which *obviously* means spiders are the next best thing.
P.P.S. "Why couldn't it be follow the butterflies?!"