Series: Standalone
Genre:  Young Adult
Published:  September, 2013
Goodreads | Amazon | Indigo | Audible
CATH IS A SIMON SNOW FAN. Okay, the whole world is a Simon Snow fan… But for Cath, being a fan is her life–and she's really good at it. She and her twin sister, Wren, ensconced themselves in the Simon Snow series when they were just kids; it's what got them through their mother leaving.
Reading. Rereading. Hanging out in Simon Snow forums, writing Simon Snow fanfiction, dressing up like the characters for every movie premiere. Cath's sister has mostly grown away from fandom, but Cath can't let go. She doesn't want to.
Now that they're going to college, Wren has told Cath that she doesn't want to be roommates. Cath is on her own, completely outside of her comfort zone. She's got a surly roommate with a charming, always-around boyfriend; a fiction-writing professor who thinks fanfiction is the end of the civilized world; a handsome classmate who only wants to talk about words…and she can't stop worrying about her dad, who's loving and fragile and has never really been alone.
For Cath, the question is: Can she do this? Can she make it without Wren holding her hand? Is she ready to start living her own life? And does she even want to move on if it means leaving Simon Snow behind?
---
Rating:  5 / 5   I would give it a higher rating if that were humanly possible <3
Format:  Audiobook
Started:  August 22, 2016
Finished:  August 23, 2016
Wine Pairing: wine… all of the wine.
"You've read the books?"
"I've seen the movies."
Cath rolled her eyes so hard, it hurt. (Actually.) (Maybe because she was still on the edge of tears. On the edge, period.) "So you haven't read the books."
"I'm not really a book person."
"That might be the most idiotic thing you've ever said to me"


– Rainbow Rowell, Fangirl
Me before Fangirl: (except I was in a Eeyore onesie)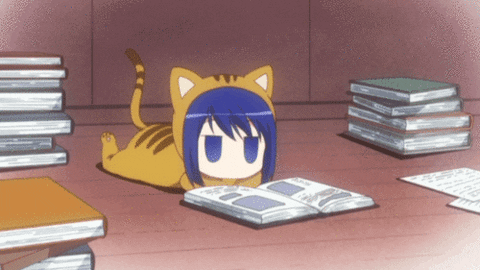 Me after Fangirl: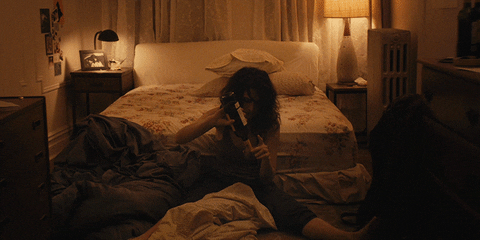 Well I know it's been a while since I last posted on here – Katelynn's been really keeping this afloat – & it's not because I haven't been reading, I think it's just that I haven't been inspired to write (that & some personal hard stuff etc.) But when I finished this book, I just couldn't help but want to shout about it to everyone I could possibly reach – and the internet is perfect for that sort of thing.
It has been a long time since I last connected with a character on this level, maybe not even ever. Cath is emotional, panicky, obsessive, somewhat paranoid, anxious, and above all else – snarky, I cannot understate the snark, it was my favorite thing ever. Needless to say, I instantly loved her. It probably also helped that I could relate to pretty much all of her character flaws and hardships, I too will go extremely out of my way to avoid the human population due to my anxiety and stress levels, I've lived through the parent drama, I went through an obsessive fan fic phase and still to this day get emails from mibba (don't judge me lol), I am way too dependent on my best friend/cousin who you all know & love so dearly, I get stuck in my head and rely on books to help me get out. Now that's not all that Cath is, but I'll leave it at that because you should really meet her for yourself (really – I insist). The rest of the characters too, by the way – I mean, there are so many amazing characters to choose from… I could literally gush forever.
"I feel sorry for you, and I'm going to be your friend."
"I don't want to be your friend," Cath said as sternly as she could. "I like that we're not friends."
"Me, too. I'm sorry you ruined it by being so pathetic."


– Rainbow Rowell, Fangirl
Fangirl was a fucking emotional roller coaster in the best kind of way, and Rowell's writing made me feel like I was right next to Cath through all of the ups and downs. I felt everything she did, and I rooted for her the entire time <3
Right now – all I can think of is how I feel just like Cath did when she finally bought the eighth Simon Snow book – it's all really over (there are literal tears in & falling from my eyes right now) <3 <3 <3
If you've ever dealt with anxiety issues, or you know, were a teenage girl at some point in your life, go read this right now! I hope you love it as much as I do! Now, if you would please excuse me I am going to go drink my feelings. Goodnight loves xo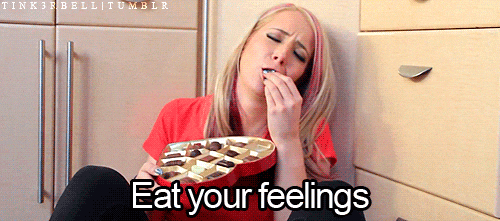 ---
Rating:  5 / 5
Format: Hardcover
Started: December 24th, 2016
Finished: December 25th, 2016
Wine Pairing: Red wine. In a big-ass glass. With a plate of cookies. Or cake.
"I don't trust anybody. Not anybody. And the more that I care about someone, the more sure I am they're going to get tired of me and take off."
Rainbow Rowell strikes again.
Actually, no – she slayed it. The only book I've read before Fangirl was Eleanor & Park which also left me reeling and infatuated, so Rowell is on my auto-buy list from now until forever. Luckily for me I have several of her books to catch on (including Carry On which I need absolutely right now) and if I haven't recommended Rowell's books to you before, I will from now on. Be prepared.
Fangirl is about Cath – the smaller twin entering first year of college with social anxiety and who spends as much time lost in her head as she can. The book is split into First Semester and Second Semester, and as we meet her twin sister Wren, her roommate Reagan, and her roommate's boyfriend Levi if you don't fall in love with all of them I think you need to read it again. Reading from Cath's perspective was like stepping into a Febreeze commercial:
To really be a nerd, she'd decided, you had to prefer fictional worlds to the real one.
And if you didn't connect with introverted and snarky Cath, there was the million-watt bulb Levi with floppy hair and God-like eyebrows:
Levi opened his smile up completely.
"Oh, put that away," Cath said with distaste. "I don't want you to get charm all over my sister-what if we can't get it out?"
I can't get enough of Cath. I can't get enough of Levi. I want to dive into the world of Simon and Baz. I wish I could be blinded by Levi. I want to enroll in Fiction Writing. I'm having difficulties writing a review because I've been scrolling through page after page of quotes and can't decide which ones I like more and which ones I want to print out and sew into my finger tips to keep forever. And even though I just finished, I already to want to open up to the first page and slowly feel myself falling in love with Cath and Levi and Reagan all over again, to feel the world change into poetry and beauty and sarcasm, and to feel the rest of the world blur and muddle as I sink down to the bottom of the ocean and read in peace with the biggest, most idiotic grin plastered to my face.
Rowell's world building and narration are addictive. My hesitation to contemporary is redundant when it comes to a Rowell book because even though we follow regular teens and young adults (and there's no elves or dragons on the cover), Rowell spins it into a mystical tale and makes mundane days seem magical. Her characters are rich and dynamic, and in Fangirl it felt like pieces of myself had been ripped apart and re-arranged into four magnificent characters. Each chapter gave me goosebumps and the ending was perfect and gentle and infinite.
"No," Cath said, "Seriously. Look at you. You've got your shit together, you're not scared of anything. I'm scared of everything. And I'm crazy. Like maybe you think I'm a little crazy, but I only ever let people see the tip of my crazy iceberg. Underneath this veneer of slightly crazy and socially inept, I'm a complete disaster."
There isn't much I can go into without spoiling anything, and to be honest I'm still having difficulty finding the right words to express just how much I think Fangirl means to me. It's beautiful and warm and the perfect hug-in-a-book, and deserves to be paraded around town and adored. It makes our real-life Febreeze-infested life seem just a little bit more refreshing and less cloud-of-chemical-haze.
Let Fangirl take away some of the toxic for a while.
You deserve it.